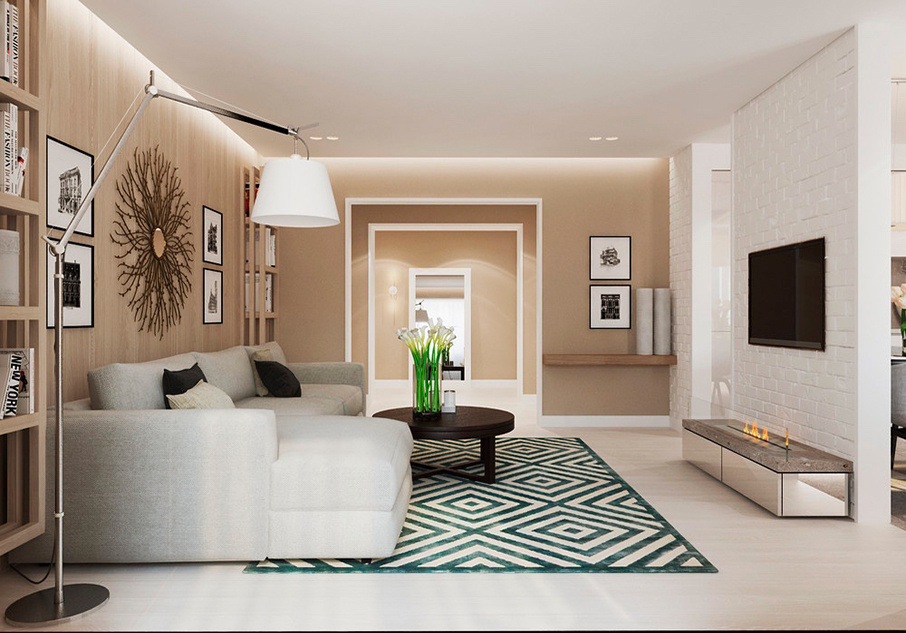 How To Add A Warm-Weather Feel To Your Living Room
How to Add to Your Living Room a Warm-Weather Feel?

Home, living room has always been the place to return and the most comfortable resting place. No wonder many people feel more comfortable at home after traveling far. Therefore, you certainly want the atmosphere of your home to be warm and pleasant. The warm-weather room design is also perfect for those who like to welcome guests at home, so to liven up the home atmosphere you need to know how to add your living room a warm-weather feel.

Try different ways to make your Living Room warmer for you and your family. A Living Room that presents a warm and peaceful atmosphere is certainly able to make all residents feel at home. Like presenting decorations that represent hobbies or passions, it never fails to create comfort for you and your family. Here are some kea design recommendations to make your living room feel warmer.

1. Present a "welcoming" living room atmosphere

The living room is often the first room you meet once you enter the house after a long day of work. In addition to entertaining guests, this room should also build a mood for the owner when returning home. A comfortable sofa with calm colors accompanied by a painting, can help bring the atmosphere of the house warmer and welcoming, both for you and your guests.

2. Warmth of family photos

Decorations that are heartwarming and make the living room warmer, are family photos. The existence of influential family photos forms the impression that you are really at home. Comfort instantly comes naturally.

3. Must! A room to relax and pursue hobbies

For those who have a hobby of music or art, you may need a special room else the living room to do this hobby. If you've just come home from traveling for quite a long time, this room is certainly on the list of things to miss. In addition, a room with such a function will usually make you more relaxed and feel completely serene.

4. Multipurpose room, Play music? You can read a book!

The concept of the next corner of the warm-weather room is multifunctional. That is, to play music while reading books. This all-round room complements your hobbies and favorite facilities.

Lounge corner with wicker armchair

The shapes of the furniture help the living room become more cozy. This reading corner invites you not to move along the lines of your braided wicker armchair. And the round table enhances that feeling, in addition to being light and promoting circulation

5. Bedroom with a specific color theme

Color selection includes important points in the formation of the expected mood. Psychologically, natural colors such as blue will usually give a calming impression. It is suitable to be applied in the designation of resting space. Applying blue in one matching gradation to bedroom furniture adds impressive warm-weather.

Look at how the warm blue color is combined with wallpaper and decorative lights on the nightstand. Adding a lot of pillows on the mattress includes a surefire trick to increase warm-weather in the room, and seems very cozy to rest.

Basically, our home is the place where we recover from the stressful everyday life, get together with the family and let our soul dangle. Especially in the cold winter months but also on balmy summer nights, pillows, blankets, candles, and fluffy fur are part of the absolute soul saver basic equipment.

A cuddly and warm-weather atmosphere for your home

Some rely on a rustic charm in the furnishings while others prefer modern straight forwardness. But one thing we all want; our living room should be cozy and inviting!

Accessories with feel-good factor

A warm-weather and cozy atmosphere with a crackling fireplace and the fluffy feeling of a cuddly blanket and perhaps a hot cup of tea in our hands: We humans live and love comfort! With individual favorite parts, we transform a living room into our home.

Breathe life into your living room furniture! With a few nice cushions on the noble sofa, a fleece blanket on the favorite armchair, we give our furniture the finishing touch and provide a space full of relaxation where we can put our feet up and forget all worries.

Living room materials

The variety of home textiles in colors and materials offer something for every taste and for every style. Here you can choose between robust living room textiles such as felt, linen and sisal, or fine fabrics such as silk, velvet, and satin.

For the absolute cuddle factor, of course, materials such as furs and deep-pile carpets are indispensable. Especially in winter, you can exaggerate a bit and equip your living room with sheepskins, woolen blankets, and fur pillows.

For real warm-weather and coziness, furniture is made of natural materials such as solid wood, hand-picked fabrics, or leather. These are not only true flatterers, but also radiate warmth and liveliness.

Small changes – big living room impact

The wonderful thing about home accessories is that they give your home a whole new atmosphere in just a few simple steps. Where in the summer months light summer blankets and floral cushions lend lightness to the room on balmy evenings, cuddly winter blankets and fluffy carpets, on the other hand, provide enchanting hut romance.

Whether you prefer the rustic or modern furnishing style: Real coziness can enrich every living room. with the correctly selected cuddly accessories, you can not only give your room the desired comfort, but also give the overall picture the finishing touch.

In general, the living room is a room that must be pleasant and friendly, a place where we enjoy meeting and relaxing. In order to give this space a warm-weather and welcoming atmosphere, kea design offers you trendy and cozy decoration ideas.

Choose soft materials

There's nothing like furnishing your living room with soft materials to make it warm. Velvet, faux fur or curly wool are perfect materials to create a cozy warm-weather conducive to well-being. You can choose a sofa, armchairs and even velvet curtains to sprinkle these soft elements in various places of the room to transform its atmosphere.

Wallpaper with vegetable wallpaper

Very trendy and perfect to warm the decoration of your living room, vegetable paper adorns your walls with its foliage. The patterns, usually green and imposing, bring a touch of nature perfect to bring a warm touch. In order not to overload the decoration, prefer to apply this wallpaper only on one of the wall sections of the room. It will only be further highlighted.

Install decorated shelves

Place in your living room shelves decorated with books and decorative objects of all kinds to add a warm-weather feel to your living room. Choose books that are dear to you as well as trinkets brought back from your travels, or frames displaying photos of your loved ones. These personal touches, full of nostalgia, will not fail to make you smile and personalize the room to create a unique atmosphere, in your image.

Multiply the seats

Sofa, armchairs, chairs and ottomans are all seats that you can furnish your living room with. Each of these accessories invites you to relax and discuss, to share pleasant and friendly moments. A living room with several seating solutions is immediately perceived as a welcoming and warm-weather place, where one enjoys lingering.

A strikingly comfortable sofa

Nothing like anatomical design to achieve it. But a few simple tricks can make it warmer, like bundled up with cushions and plaids. Mohair are favorites in autumn for their long hair and delicate touch. They also isolate well from the cold and add a warm-weather feel.

Add a soft rug

Place a thick rug in front of your sofa to warm up the mood of the living room. No more cold soil under your feet. On the contrary, you can put them on this soft carpet on which you can also sit. You can also decorate it with ottomans or floor cushions for even more comfort.

Diversify lamps

A perfect solution to add to your living room a warm-weather feel is to install lamps in various places. So, choose lamps of different shapes and materials, and place them on the ceiling, on the walls, on a side table or even on the coffee table. Between suspensions, floor lamps or table lamps, you will certainly find everything you need to create a soft and intimate atmosphere in the evening.

Choose natural materials

Wicker, rattan or cotton are all natural materials whose mere presence warms the atmosphere of the room. The ideal is to place several different elements in various natural materials: a rattan armchair, a wicker suspension and a cotton wall weave, all chosen in a neutral shade, will match perfectly.

Also choose materials such as cotton or linen for upholstery, carpets, cushions and curtains for even more harmony.

Bet on plants

Bring nature into your living room to feel it immediately warmer. Green plants are then allies of choice to decorate your living room in a pleasant and welcoming way. Depending on your tastes and the time you can or wish to devote to their maintenance,

Hang paintings

Nothing worse than leaving the walls of your living room bare, no matter how aesthetic the wall covering is. Thus, do not hesitate to adorn the walls of the living room with several paintings to warm its atmosphere. For a successful effect, coordinate their colors or patterns: the rendering will be more harmonious. Make sure that they match the dominant shades of your decoration so that they fit more easily.

Light candles

The flame of a candle is an element that warms a room and makes it more cozy. Do not hesitate to place candles in several places in your living room. Place them on candle holders or in pretty candle holders whose patterns will come alive once the candles are lit to create a light and an atmosphere as soft as it is relaxing.

Details that add up

An ethnic side table, like the Draco model in the living room, is an extremely warm piece. In black and dark brown, she wraps the sofa and the plant on it strains beautiful autumn brushstrokes with its leaves in tile. Attention to low beams: they create an intimate atmosphere of luxury

Accumulate cushions

Fill your sofa and armchairs with cushions to make them even more welcoming. Multiply them and vary both their colors and their materials. You can accompany them with plaids to make them even warmer. Nothing like it to create a space that invites rest and relaxation.

Opt for a large sofa

If the surface of your living room allows it, prefer to choose a large corner sofa to furnish it. Its shape naturally invites conversation but also relaxation.

Walls with hook

Green living room with contemporary design sofa

This idea makes clear the key role that the walls of the living room play to feel that its decoration surrounds you. The wooden slatted divider panel can add an extra warm-weather surface. And the composition of pictures on the wall of the sofa dresses and wraps the area with great style.

Living room in light tones with showcase

Pure white walls should be avoided. Chromatic chart is a succession of more or less intense sand tones, cream, light wood ... and accessories in black that give intensity

The adjustment of the living room requires a lot of impensable because it is one of the most indicative spaces of the house, therefore everything must be perfect. Coordinated checkered and striped

In this living room design, fabrics could be selected: from pictures to upholster the sofa, coordinated with striped cushions in the same colors.

Brown Living Room Design So Warm!

One of the warm-weather living room designs can be created through the use of brown as a predominance of the room. When viewed in terms of characteristics, this brown color looks soothing, relaxed, and full of familiarity. Its neutral nature also allows this color to be easily combined with other colors.

Although if the living room is small, the use of brown color can ensure that the room is ready to welcome guests warmly. The brown color chosen as the basic color can be so dominating, with the arrangement of the room made graded. A good combination of white, cream, light brown, and dark brown.

Some living room concepts carry a modern style. As a place to sit, a sofa with three stands was used. The beauty of the semi-leather table can look striking in the middle of the interior. To make it more beautiful, wooden-framed round mirror accessories can also be hanging in one corner of the room. The addition of credenza and various other furniture in one brown color further adds a warm-weather feel to the living room.

On the other hand, White is the mainstay paint color that is usually used on Interior Anything. Its popularity extends due to its versatility and ability to enhance the impression of space. Interior Freshly painted whites can optimize natural light, as well as make the room appear cleaner.

Painting the walls in white also does not require great courage, compared to painting the room using bright colors. However, the all-white interior sometimes feels bland and impresses a feeling of coldness, even flashy and perhaps lacking in character. So, while this may be an easy color to choose from in the paint example, you still need to consider how you can warm your room with a variety of accessories that can help give the room a warm-weather feel.

As mentioned above, the variety of green color on the foliage of plants contrasts sharply with the white color and can lift the space instantly. If you use a neutral palette, use a pot of the same tone. Natural wood and white combine very well. If you want to warm the room, instead of choosing white or gray wood, choose a warmer color such as oak.

Metallic accents such as copper and brass can not only add warmth to the room, but also add a sense of luxury. You do not need to add metal accents in excess, choose a coffee table frame with metallic accents. Featured floor lamps in the corner or small candle pools on the side tables can be enough to boost the energy of the living room.

Briefly, decorating your living room depends on your personality and way of life. Each living room requires a combination of many details such colors, space, place, and profession: all what you imagine can be solved with kea design professionals and factories.