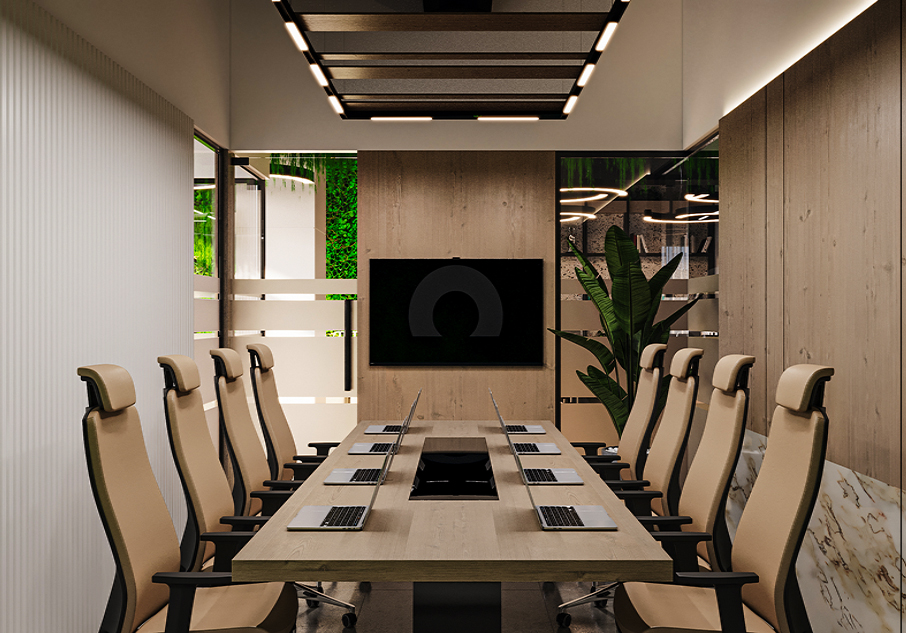 Industrial Fit Out Mistakes You Should Avoid
You are obviously interested in the mistakes that can be made when assembling a warehouse, before setting up your own one, read this article carefully to be aware of industrial fit out mistakes you should avoid, mistakes that are often made when people build their system building warehouses: whether on their own or when others do the construction for them.

1. Failure to observe the conditions for building inspection:

Whether you want to build your industrial fit out, your warehouse inspection conditions should be observed. Only then is a problem-free assembly of your warehouse possible. Mistakes can happen at all points of the industrial fit out inspection. So, make sure to comply with the guidelines carefully.

2. No previous technical knowledge

As hard as it sounds, if you don't have technical expertise, don't build the warehouse yourself! Otherwise, not only a wrong construction of the industrial fit out, leaks and the forfeiture of guarantees, but also a lot of frustration and possibly even physical damage threaten.

3. Unsuitable weather conditions during the construction of the warehouse

It is very important to work in an appropriate climate to avoid any assembling issues for the industrial fit out in progress (rain, storms, extreme temperature...).

4. Too great a slope of the industrial fit out

The floor on which your warehouse will be built must be aligned horizontally (use a spirit level for this). A minimum gradient in one direction is allowed: maximum 1 centimeter per meter. However, the deviation for the entire surface on which the warehouse is built shall not exceed 10 centimeters. For a 20-metre-long hall, a total gradient of 20 centimeters (20 x 1 centimeter) is therefore not permitted.

5. Too large unevenness of the floor

A level surface is a must so that the floor profiles of the warehouse fit out lie firmly and stably against the ground. The maximum permissible height or depth of floor unevenness is 5 millimeters. Larger deviations would be visible on the outside of the warehouse: For example, a level can suddenly stand 2 centimeters higher (or lower). In addition, the doors and gates would not close properly, etc.
Gravel or sand must therefore be carefully compacted. If the ground consists of paving stones, they must have almost no difference in height to each other. As a rule, a foundation can be laid out more easily completely flat.

Kea design has been specializing in the production of standard industrial fit out in a modular system for over 13 years. This means that all our components are standard and perfectly matched to each other. Some components have to be sawn to size during assembly. What these are, is clearly indicated in the instructions. An independent adaptation of components during assembly is therefore not necessary or, on the contrary, can even lead to problems: On the one hand, the warranty on the component adapted by you expires and on the other hand, the static calculation is no longer correct.

7. No or incorrect securing of the posts

When setting up your warehouse, you first set up the frame. So that the posts do not fall over during assembly, you need to secure them. This can be achieved by means of tension cables attached to two sides or by wooden support beams

8. Wrong order when assembling the warehouse

Basically, if you assemble the products in a different order than indicated, it goes wrong. Therefore, you should adhere exactly to the guidelines. If you do not do this, you will notice in the further assembly process that the construction of your warehouse does not fit. Then you have to unscrew the components again. This is not good for the quality of the parts and leaves unnecessary and unsightly screw holes.

9. Incorrect use of earth nails

If your warehouse is anchored in the ground with earth nails, you should make sure before setting up that the nails, which are more than one meter long, can actually be driven completely into the ground. If this is not the case, you should not build the hall at this point: If the earth nails are not stuck in the ground along their entire length, the stability of the industrial fit out is not guaranteed.

10. Inverted mounting of the fairing

When attaching the panels, be sure to screw them on the right way: the outside facing outwards, the inside inwards. If you have chosen a specific color for your warehouse during configuration, this is very easy. The outside of the panels is painted in your desired color, the inside grayish-white.
At the front of the industrial fit out, you must make sure that you leave recesses for the gate and the hinge door when cladding the hall.
Especially with the trapezoidal sheets of the roof panels, the correct installation is important: If they were wrongly mounted with the outside inwards, water can run under them into the hall.
An insulated roof panel. The elevations (arrow) on the outside are clearly visible A non-insulated roof panel. You can distinguish the outside and inside only by the color chosen for the outside

11. Failure to remove metal chips after sawing

The first and last panels of the industrial fit out roof must be sawn to size on site. The panel is cut along its entire length. Make sure that this is done at a sufficient distance from the warehouse. If this is not possible, we advise you to carefully remove the metal chips produced during sawing from all parts of the hall with a soft broom. Because the chips rust when they get wet. On the one hand, this is not visually beautiful, but above all, the rust spots can become holes in the long run.

12. Installation of a sectional door on your own

Even if you are technically savvy, we advise against installing a sectional door yourself. A lot can go wrong. It is better to have this done by a specialist company. Especially if you bought a door with an electric motor for your company. Because this must be checked and released annually by an official body.
You can use a roller door yourself with a little technical understanding. Please do not forget to tighten the spring, otherwise the door will not roll up or down properly
Normally, industrial fit out are used for the storage of goods and the transport / onward transport.
Goods are transported from the producer to the warehouse or from there to the consumers.
The closer the warehouses are placed to the producers or consumers, the shorter the walking distances and thus the transport times.

All collected/produced goods (except the goods from the cultural buildings) go to the warehouses and are collected there and displayed as stacks.

All warehouses, no matter what type, form a unit and in each warehouse the entire stock levels are displayed.

Each additional warehouse or warehouse expansion increases the total storage capacity of all warehouses.

Warehouses cannot be moved. It is therefore important to think carefully about where you want to place an industrial fit out before building it. A later postponement is only possible through demolition and new construction at the desired location

In the event of demolition, all expansion stages are lost for most types of storage. Exceptions are special warehouses that are available in events and can only be expanded during the event with event currency or success points (such as the Spacious industrial fit out), or warehouses that are not expandable.

An exception is the industrial fit out tribute. Although this increases the storage capacity, so it does not show any stock levels and it can be moved lossless.

Function and structure of a warehouse

All goods obtained are displayed in the warehouse. How many goods can be stored in your warehouses depends on the size of your storage capacity.

If your storage capacity is exhausted for a product, no further goods of this kind can be produced. You can recognize it by the fact that this symbol appears above the production buildings in question:

The goods in your industrial fit out are divided into different groups:

Simple
Improved
Elevated
Luxury
Elite
Event (this group only appears during an event)
spacious Warehouse

Materials and industrial fit out management is responsible for planning and controlling the flow of goods in the company. It assumes an interface function between procurement, production and sales, which it can fulfil better (and more cost-effectively) the less interference it is exposed to.

However, some disturbances are manifested by strategic or operational decisions and then have a long-lasting effect.

Often such disturbances arise from problems for which there seem to be quick and easy solutions. For example, for customers who need samples of an article and not a full packaging unit. Or for the short-term provision of additional storage capacity. However, for every complex problem, there is a solution that is simple, obvious and completely wrong.

The little bit of opening is not a problem

As a rule, larger containers of similar articles are stored in the industrial fit out. They enable fast handling and facilitate further logistical steps such as picking, dispatch preparation and shipping.

The smallest possible handling unit is the packaging unit, at least theoretically. Especially for small-scale articles in large packaging units, it can be more attractive from the end customer's point of view not to order a full packaging unit, but only a part of it.

Also, for the purpose of sampling, often only a few copies are needed, on the basis of which it can then be determined whether suitable for customer requirements or not.

It would be better not to store openings in the regular warehouse, but in a separate small parts warehouse, where the articles are stored in plastic storage boxes, for example. Stationary picking aids such as scales, bags, small cartons and etc. can also be stored here and a label printer can be set up to simplify opening picking.

We want to make the best possible use of pallet spaces

If articles are stored or handled in larger quantities in the industrial fit out, pallets are usually used as storage and transport aids. The stock goods are completely stored and removed with pallets and also the picking can be carried out directly on the compartment from the warehouse pallet.

However, a pallet occupies a complete storage space even if there is only a single packaging unit left on it. The idea is to merge the remaining quantities of articles with only a few packaging units of stock on a pallet. This saves space in the industrial fit out and still ensures that the items are available.

In order to avoid mixed occupancy, a separate small-quantity warehouse can help, which offers sufficient storage space on industrial shelves, for example, and is operated with a manual trolley.

We store where there is space for our items

If your own industrial fit out property reaches its spatial limits and the space problem cannot be solved even with an optimal storage structure, capacities are often rented from external service providers.

These are supposedly cheaper than a new building or extension, but the relocation also entails difficulties for the logistical processes. Not only must the infrastructure be created in the external warehouse to map the stocks in the company's own warehouse management system, solutions must also be found for replenishments.

It is often not only the connection that is problematic, if external employees are outsourced, it must be ensured that they have sufficient system and article knowledge. Because a mis conveyance in the external warehouse is not as easy to correct as one in your own logistics center.

Delivery and working hours must also be synchronized in order to complete the shipment for orders that also contain goods from an external industrial fit out.

The floor offers enough space

Block storage is the simplest and most cost-effective storage. Allegedly, because not only is the height of a warehouse not used in block storage, block storage is also more of a hindrance for handling.

Because in order to get to the required pallet, one or more others often have to be driven over, which takes time. And last but not least, the retrievability of the goods in block storage is more difficult than if the pallets are stored directly in defined (and managed in warehouse management) storage locations.

It is therefore better to make use of the available open space by setting up multi-storey pallet racks and managing them as storage locations on the IT side. This initially causes a higher investment, but in the long run facilitates the logistical processes enormously and avoids reactive power.

With some key figures, the performance of logistics can be made transparent. And not only that, the key figures can also be used to identify and specifically evaluate undesirable developments. For example, a deterioration in productivity can be an indication of disruptions and obstructions of logistical processes and their extent.

Discover an Industrial ERP with intelligent solutions for manufacturers. Today's global industrial customers demand more and more products that are configured, manufactured and assembled to order. The modern, agile industrial fit out must be responsive and be able to deliver with the highest quality and punctuality.

Fluctuating demand creates significant challenges in managing the internal supply chain, coordinating the extended supplier ecosystem, controlling costs, ensuring quality, managing production, and optimizing inventory.

Industrial ERP (Enterprise Resource Planning) software provides industry-specific functionality and meets the needs of manufacturers under constant pressure to produce innovative, reliable and cost-effective products.

Industrial fit out is constantly faced with the challenge of automating increasingly complex supply chains in order to shorten the time to market. Cross-border deliveries must be coordinated in global trade, and accurate forecasting processes must ensure material availability.

At the same time, it is important to reduce costs and meet customers' traceability requirements. Using an ERP system designed specifically for industrial fit out and manufacturing helps meet many of these requirements. It provides real-time visibility for supply chains from start to finish, increasing flexibility in product development and coordination.

Features and Benefits of Industrial fit out

it offer solutions that optimally meet manufacturer requirements such as the selective use of financial, planning and operational functions.

Core vertical segments of industrial fit out:

Packaging manufacturers are facing rapidly changing product configurations and pressures from rising material costs, a greater focus on sustainability and changing customer requirements. Operational effectiveness is a must to keep costs under control, coordinate production schedules and exceed customer expectations for service.

Industrial fit out Plant manufacturers are faced with an increasing demand for machinery and equipment tailored to specific requirements. In addition to satisfying these fluctuations in demand, optimizing supply chains while reducing costs and meeting traceability requirements is paramount.

Rolls, Wire and Cables

Consistent material quality in just the right dimensions is critical to profitability in a market with typically very tight financial margins. Operational effectiveness is a must to manage materials.