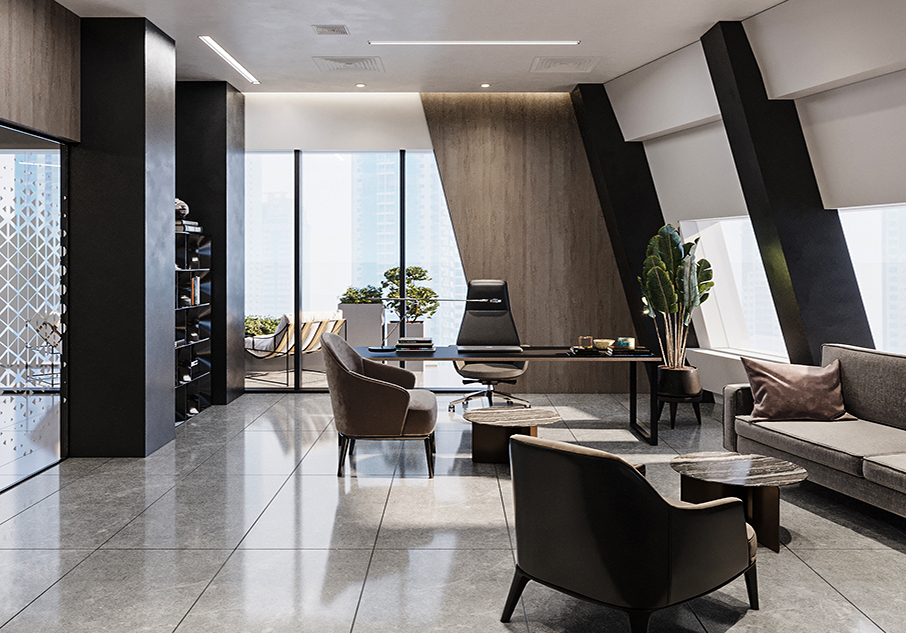 Key Factors To A Successful Commercial Design, Fit Out And Joinery Business
Whether small or large, a company is a complex organization that operates according to its own rules, while being dependent on third parties and its environment: customers, suppliers, partners, State, markets..., some key factors to a successful commercial design, fit out & joinery business can be followed properly.

Thus, the success of a business depends on a very large number of criteria, the importance of which can vary depending on the nature of the activity such as commercial fit out, joinery and the size of the structure or the intensity of competition. The challenge is about not getting lost in these parameters and getting back to the basics of what makes a commercial design successful.

The business creator and the manager must take a step back to analyze their strengths, weaknesses, and identify opportunities; This exercise should be carried out regularly, with the utmost objectivity.

Here are some key success factors of a company according to kea design company, which, combined, will pave the way to success!

1) A good product:

Having a good product is the first key success factor for a commercial design firm. This consists of offering a commercial fit out, range or assortment that meets customer expectations, attractive, qualitative, effective, easy to use or consume. Offering a good product makes it possible to satisfy customers and therefore to build loyalty, or even to trigger word-of-mouth.

The best way to design a good product is to conduct market research to understand customer motivations, especially for commercial fit out and joinery business!

Having a good product also means offering associated services:!

customer service,

after-sales service,

Insurance or guarantees...

Offering a joinery business will allow you to have "good customers", loyal and solvent. Note that it is recommended to regularly measure customer satisfaction through satisfaction surveys of commercial fit out.

Finally, a joinery business is a profitable and future-oriented product, a product that is subject to regular adaptations, or even research and development efforts to guarantee a competitive advantage in the long term.

2) A good price.

The quality-price ratio of joinery business is one of the first criteria for choosing customers. The price positioning must be determined according to the commercial design competition, the psychological price (quality perceived by the consumer) and the financial needs of the commercial fit out (need to be sufficiently profitable given the fixed and variable expenses), here again, market research is essential, including competitive analysis.

3) A good location.

Attendance can vary greatly depending on the geographical location chosen. A good location is a location that captures the flow of target customers, which is easily accessible, attractive, visible, well exposed, but also large enough and easy to arrange.

4) Good communication.

Another essential success factor for a successful commercial design company, good communication makes it possible to attract customers and especially the core target.

To be effective, communication must be consistent with the spirit of the company as well as with the expectations and habits of the customers:

communication for the general public,

communication on the Internet,

Direct marketing (physical canvassing, e-mail, telephone, mail, brochure...),

events and press relations,

"network" communication.

The most difficult thing will be to measure the return on investment of the various communication operations, something that most companies are unfortunately not able to do...

5) Good organization.

The quality of the organization is an essential key success factor for any company or organization. The organization is indeed at the heart of the economic model and the efficiency of the company: a good organization will result in delivering a commercial fit out and joinery product at the best cost, which will both satisfy the customer and limit expenses. We are here at the heart of the economic, human and financial balance of the company.

An organization means:

the definition and distribution of tasks / functions,

the definition of production, decision-making and support processes,

the choice to internalize or outsource certain tasks or functions,

the use of information systems (computers).

The organization concerns the internal life of the company, but must be customer-oriented to achieve effective joinery.

6) Quality equipment and facilities.

The quality of joinery equipment, tools, premises and facilities is an important factor in the commercial design success. Customers will pay particular attention to this. The company will gain credibility and productivity. This requires investments, if possible, correctly sized and whose profitability will have to be anticipated.

7) Effective staff.

Indeed, the company runs thanks to its staff and skills, experience and loyalty. Human resources management is at the heart of the organization; It requires special know-how and a lot of time spent in management, training, internal communication, motivation... Not to mention the need to master labor law

8) Good partners.

The success of a commercial design company is also measured by the quality of its partners:

suppliers of materials or finished fit out,

Subcontractors

external service providers, including chartered accountants, insurers, lawyers, management consultants, press officers, etc.

The use of external partners is justified whenever it increases efficiency, reduces risk and saves money compared to internal solutions. The most difficult thing is to identify the right partners, and to avoid any appearance of dependence over time.

9) A good entrepreneur.

What is a good business leader? He is not a superman but a man or woman who knows his qualities and flaws and seeks to improve.

The "good" business leader is one who:

knows how to listen to your environment and detect opportunities,

believes in himself,
has a strategic vision,
knows how to remain lucid,
is persevering and patient,
is resourceful,
knows how to surround yourself,
knows how to decide and manage priorities,
knows how to manage your time and money,
has commercial sense.

To become a successful entrepreneur is indeed a lot of challenges. It takes tremendous sacrifice and strength. Many people are successful as entrepreneurs because they have something in them that no one else has. some factors don't all exist such "talent" and "experience"

In producing a fit out, there are several factors that affect the design of the product you are going to create.

Product Responsibility

Product responsibility is an effort offered by the manufacturer to the consumer. This will certainly be an influential factor for the commercial design.

Product Price and Volume

Price is related to the number of products to be made, while volume is related to the size of the fit out offered.

As a prospective commercial design makes products independently, the factors that affect the design of the product above are important notes for you. If the product design is good, then you will be more confident to market it to the public who need your product

Abstract and Figures

Successful commercial design is a series of processes of developing and marketing a commercial fit out. It is designed to reach a point that can be applied to a production activity so that it can generate profits.

The success or failure of technology-based business commercialization is influenced by several factors. These factors include the capacity of tenants as technology-based entrepreneurs, mentors who accompany tenants, incubation centers that carry out the incubation process to tenants, and the value of the Technology Readiness Level of commercialized joinery products.

From these factors, problems can be identified that hinder the success of tenants in running a business and are useful for minimizing these problems.

A thorough overhaul of your workspace or office seems daunting, but with the right planning, management, and support, it doesn't have to cause fear. Kea design suggests a few steps to detail and simplify the process of preparing offices for commercial fit out.

1. reconfigured office

This is a good opportunity to enlist the help of people in your business and find out what improvements they would like to see in their workspace.

Think about the current culture within the company – is it a healthy culture? Given that office improvement is an ideal time to measure or test the existing culture and explore what can be done to improve it through office design.

Anonymous company-wide surveys are a simple but effective way to ascertain employee opinions and hone key issues that need to be addressed with joinery improvements to be made for all fit outs.

2. Appoint a project team that represents the entire organization

The team will speak for the benefit of all employees; Therefore, it is important that each department and group is represented. A fair way to form a team is to invite staff to nominate their colleagues. It is also important to appoint a suitable project manager who can handle day-to-day management and make the necessary adjustments and consultations as the joinery project progresses.

3. Talk to design consultants and commercial fit out contractors

The sooner you contact a design and fit out specialist, the sooner you will be notified to make the right decision for your company.

By joining an experienced company, you will get much more than just the practical aspects of its design and application; the right partner will offer insights into your industry and a view to the future, leading you to a more effective office environment for your business.

At kea design, in addition to setting up a design that suits your business, we also offer project management services designed to take on most of the supervisory work you have to do

4. Approve the budget for the project

Setting financial limits for your commercial fit out project needs to be done as early as possible in the process of setting up various wishes. The design consultants and fit out contractors you appoint can help you set a more accurate budget based on your project requirements.

5. Continue the discussion

Once you've received advice from a commercial fit out partner in the team, your designated project team can discuss which solution works best for your needs and ask the necessary questions. To achieve a successful office fit out or any joinery project, it is important to keep the channels of communication open, both internally and with your office design consultant.

6. Work closely with designated fit-out contractors to formulate the right design

The designated commercial fit out contractor will be on hand to notify you at every stage of the process.

At Kea design, we establish close relationships with our clients; we really take the time to get to know your brand, industry, and people to help you decide the right direction to fit out your office fit. We offer flexibility when it comes to making joinery adjustments, while staying committed to the agreed timescale so that your project goes on schedule.

7. Choose the right joinery furniture for the new work environment

Not just blending in with the workspace, furniture plays a key role in creating a responsive, flexible, and comfortable work environment. The right furniture and joinery has the ability to:

provide secure physical support for your staff

adapting to different work patterns and needs

Meeting Storage Needs

Encourage collaboration

Strengthen your brand

Most joinery specialists will be ready to present the best furniture options for your needs and budget, so you don't have to work things out on your own.

8. Keep staff informed about commercial fit out plans

Transforming your office with transparency, honesty, and openness when it comes to communicating with staff is essential. By appointing a suitable project team at the beginning of the process, you've laid the foundation, but it's important to keep all employees informed and engaged as the journey progresses, answering any questions they may have.

Our talented commercial design experts and architects are ready to take on commercial fit out and projects whether classic, modern, contemporary, eclectic, traditional, rustic or Mediterranean style. While creating these wonderful, unique concepts, the kea design team has developed restaurants, café-bars, hotels and hotel rooms, beauty salons, shops, flower shops, medical clinics, etc., all surpassing luxury and elegance.

Our best designers have always tried to keep up with all the details our customers have asked for. We have a mission to fulfill dreams and desires by being successful in interior design. This is the main reason why we welcome our customers with a wide range of interior materials imported by the largest manufacturers in the world.

Our commercial design experts highlight the fine lines, along with a palette of natural shades that have created an exclusive atmosphere that fully meets the requirements of our customers.

In most cases, each interior style has beautiful colors, details on stretched surfaces, and the joinery furniture best reflects the style thanks to its luxurious and elegant lines.

In any interior design style, we encounter extravagance, and we certainly have a good taste, which is given by the careful selection of materials and furniture.

Our commercial design projects: Hotels, restaurants, beauty salons, hotels and much more are created with a lot of commitment and professionalism. Our best interior designers strive to keep the projects in a calm, airy mood.

Therefore, our interior designers usually think big: open spaces, large and wide windows, spacious hallways, extended areas and accessories. All carefully selected materials create unique joinery furnishing styles, where elegance and luxury can be found in every inch and every corner of the commercial fit out.

Tools for successful commercial design thinking

Commercial Design thinking is a very effective method that you can use in any situation – for products, services, processes, big innovations or small joinery improvements!

An important principle of commercial Design Thinking is user orientation! The focus is on users, customers and stakeholders. Only if you know their requirements, wishes, motivations and framework conditions can you create truly innovative products and solutions. These products and solutions should generate demand and their benefits should differ significantly.

The Design Thinking principles can be applied in everyday work, in every project, in every problem solving or in organizational development to find and develop better and accepted solutions.

Monitoring & Engagement

Observations are also a standard tool of Design Thinking practitioners. Human behavior is observed, during an activity, solving a problem or dealing with a fit out or joinery product.

The situation of the users themselves is experienced or witnessed. Above all, it is about gaining deeper insights, gaining knowledge about the processes and being able to empathize with the customer's situation.

The advantage besides empathy is the deeper insight:

because in interviews customers sometimes don't say what they think,

things are often not expressed because they can be taken for granted or taken for granted.

are not perceived as relevant.

are unconscious and do not attract the attention of the customer himself.

Other forms are:

indirect observation by documenting activities by means of a video

covert observation

Shadowing, where a person is accompanied and observed during everyday activities and experiences.

For the most valuable insights, first observe and analyze the activity, and then conduct an interview for deeper insights.