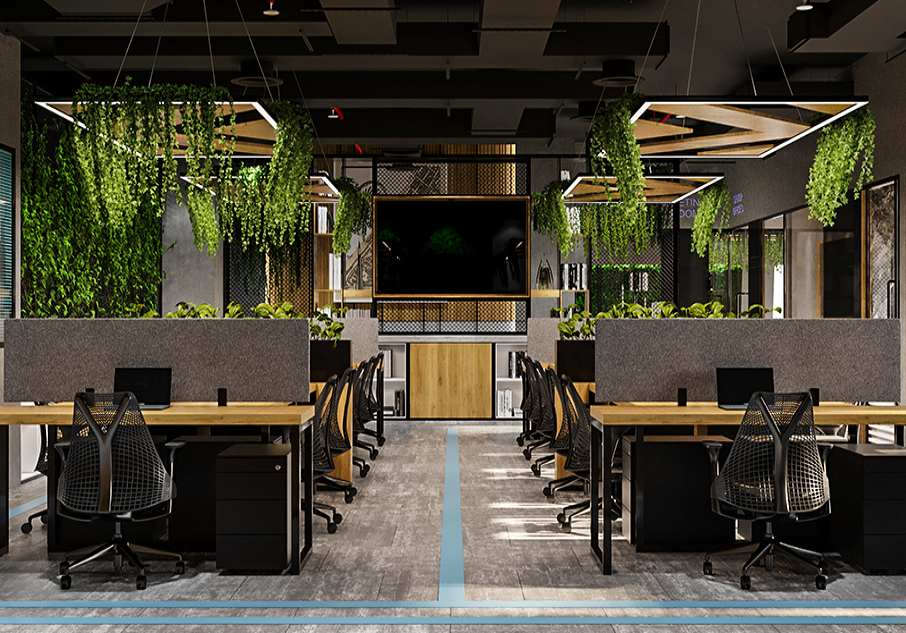 Real Estate Office Interior Design And Decoration In Dubai
Workplaces where office design work has been done should be places that inspire and energize, there should be complete fit out that support people's well-being and productivity, with a little brainstorming, latest project with plenty of rooms of an office design and complete fit out execution of real estate firm by kea design, combine latest trends of Office decorations, of course, much more than a new collection of tables and chairs.

Revealing the difference in office interior design means to break down the monotonous and boring/suffocating environment and replace it with peace and quality.

On the other hand, increasing the morale and motivation of the personnel means creating a professional image and quality perception. An office design that will provide these returns must be made by kea design professionals: The place where even the simplest pot or fire extinguisher will stand can provide you with benefits you may not even be aware of.

Workplace inspirations

BRING IN THE OUTSIDE DURING THE OFFICE DESIGN PHASE

Biophilic design (design based on natural elements) is not only very trendy, but also has strong fit out ties with a sense of tranquility.

There are many creative ways to bring in the outside and reap the benefits.

You can hang plants on the ceiling, install a seating wall or even choose furniture with integrated pots. Plant or herbal office design and decoration also benefits as soft noise barriers. This can increase productivity by eliminating some of the frustrations that your employees may experience if you have a bustling open-plan office design.

While plants are a big part of bringing nature into your commercial office design, they don't all have to be green or leafy.

You can use natural tones on the walls and furniture fabrics or use natural materials such as wood. And it's not just for the show, but because biophilic elements like this are known to make people feel calmer.

WALL CHARTS TO WIN

Wall graphics can add personality to any complete fit out space. When used wisely, they can bring your firm brand and culture to life and motivate your employees.

Putting company culture through everything your company does, including your office design, is an important part of creating the environment you want for your employees.

Wall graphics can also be used with other elements such as furniture to create zones with different 'feel' for different events. For example, calmer or less 'busy' graphics may signal a sense of encouragement for concentration, or more energetic-looking designs can be used in spaces designed for collaboration and discussion.

An example of this in practice would be marking a designated eating area in your workplace. No matter how big or small the space is, you can use wall graphics to create a space where people can move away from their desks during the day. For example, a well-designed note with a simple and environmentally-compatible, message of healthy eating.

LESS 'KITCHEN', MORE 'WORKING CAFÉ'

On that note, turning your kitchen space into a study cage is something kea design recommend for a variety of reasons:

Having your own café-style space gives your employees the option to use a more comfortable office design without having to leave the office. This doesn't mean that you should first think of your work café as a workspace, when in fact it should be the other way around.

Aside from wall graphics, the fit-out tone of this office design can be adjusted with more comfortable furniture, softer furniture, and less integrated technology to encourage breaks.

Of course, some work cafes can be positioned as agile workspaces where people are encouraged to sit with their laptops. If this is the case for your space, it is important to provide enough power points when it comes to office design fit out.

Ultimately, giving people the opportunity to choose when and how best to work provides a great sense of freedom and a remarkable increase in well-being. Plus, it's great for productivity. It's always nice to have a place to take visitors for a nice coffee without having to leave your firm!

OFFICE DESIGN FOR MOVEMENT

Movement is good for circulation, supports physical and mental health, and reduces the risk of chronic diseases.

Research has also shown that standing more can increase energy and productivity levels, reduce stress, and improve mood. If your field can encourage this, that would make your company a great place to work.

So, how do you design a corporate office space that moves people around more?

CONSIDER THE OFFICE DESIGN LAYOUT

It's a common misconception that exercising can make up for sitting all day. It's important to make sure you move often. In fact, it's recommended that you get up and stretch your legs every 30 minutes, or even better, switch between sitting and standing every 30 minutes.

EMBRACE THE HUMAN FIRST APPROACH

No matter how 'commercial' or 'corporate' your firm offering is, centering your office fit out around your employees will help you create inspiring spaces that look great when meeting business goals.
Simply setting up desks in rows can hinder working practices, and to be honest, it seems very boring to look at such a view all day.

TALK TO A WORKPLACE CONSULTANT

The implementation of these ideas is not as easy as it seems, but of course it is not impossible. However, kea design still recommend that you get professional service so that you do not waste valuable resources and regret before you act on office design. As kea design, with competent team in office design and decoration is ready for execution of complete fit out without any leak or default.

Business office Layout-Conduct and Phases of a real estate firm office design by kea design

The development of corporate offices goes through a succession of phases. The list of phases is not exhaustive and can be adapted to the needs of your business and the size of your office design, fit out and layout. The time allocated to each of them may vary depending on the size of your firm and the complexity of your space planning office.

Design studies

These studies begin with a collection of data both in expression of needs, and from an architectural and technical point of view.

A set of audits not only makes it possible to understand the office design, but also to guarantee compliance with urban planning rules, the labor code and personal safety for an adequate fit out.

Spatial and functional audit

This audit makes it possible to evaluate the qualities and potential of your real estate asset. It is based on the analysis and understanding of the building both in superstructure (what is above ground) and infrastructure (what is underground). The classification of the building (ERP, labor code etc. ...), the type of construction, the proportions, the obsolescence are analyzed to offer a mapping of the existing to provide relevant answers to your office design development problems.

In a second phase, our architects will focus on analyzing your building from a functional and surface point of view; flexibility are all assets that participate in the design and realization of coherent office design and layout.

The last phase consists of looking at the book from the point of view of safety and compliance with regulations and in particular the labor code.

The treatment of floors, walls, ceilings, openings, will be scrutinized as well as air conditioning and aeraulic networks (fresh air supply), fire detection systems, high current, low current, and hydraulic networks. This is a due diligence phase for a successful and complete fit out.

Sketch & Macro-zoning

The Sketch is for us an essential step that aims to project, on plan, the advantages, and disadvantages of the office design. This study does not fully consider your needs, but is rather a catalogue of "possibilities", a presentation of current guidelines for targeted fit out.

Macro-zoning focuses on demonstrating the right match between your needs and the building and giving a more precise vision of the organization in the planned office design fit out.

As throughout the phases of your office design spaces, a budget estimate and a schedule for all the lots are presented.

Our approach to the development project is based on the creation of a digital model. Thus, at each stage, we will present you with 3D views of the project.

The Detailed Office Design makes it possible to refine the project based on the previous validated phase, broken down according to the following order:

study of typologies of partitioning,

design of layouts,

Consultation around furniture:

Ergonomics

Size

Components

Consultation new furniture,

Furniture inventory recovered.

presentation of material boards (to validate the concept of interior architecture), materials and colorimetry,

lighting studies.

The interface between the technical office design; at this stage of the project, it is necessary to consolidate the technical aspects for a complete fit out such as air renewal, air conditioning, low / high currents, lighting as well as your IT equipment needs (number of sockets, category, ...)

In addition to all the plans, there are sections and elevations to specify the heights, the finish of walls and partitions as well as many 3D views to make the fit out in development legible.

Interior office design will be based on a concept and a general harmony of the workspaces complete fit out. There are elements such as:

the definition of the atmosphere of all spaces, materials, and colorimetry,

the study of wall coverings (floors, walls, ceilings)

the study of lighting principles

An office design project also includes a set of serving spaces that participate in the creation of pleasant spaces and require special attention.

These spaces often involve the creation of bespoke elements and can be the backbone of your project. The reception and more particularly the reception desk, the cafeteria and coffee points, the meeting rooms and the shared spaces are places where creativity is required.

In the continuity of the office design phase, kea design will have the necessary elements that will make it possible to constitute the complete fit out.

During the preliminary work, kea design makes plans and other drawings, and choose the appropriate materials for the real estate project. The duration of this step varies greatly depending on the work to be done.

When the preliminary plans are complete, we will meet with customer again to present proposals. we will then become acquainted with our custom interior design concept! then make final choices regarding the complete fit out and materials. On the other hand, we will have to make the final choice of colors on site. The computer does not render tones and shades well.

Execution of the work

When we have the final plans in hand, we start the office design fit out with an update on the progress of the work.

The final step, the decoration

Finally, we can suggest furniture, decorative elements, plumbing and heating fixtures as well as some finishing materials. We also take care of having your curtains and bedding made, sculptures, or personalized stained glass.

Practical stages to start implementing the real estate firm project?

Office design is a project that needs prior planning for the implementation process, setting priorities, focusing on important elements, preparing bills of quantities and limiting the stages of fit out implementation

Then start making the proposed design drawings as well as the initial assay (after studying the client's thought through the initial interview) and the initial assay depends on the approximate inventory of the sizes that were taken from the site before starting the design and then approving the client and contracting.

Planning and implementation of design drawings agreed upon with the client - Planning the process by setting a timetable showing the work required to implement the proposed office design, making items overlapping, arranging the entry of the industrial successively, and arranging with them to ensure the continuity of work on the site according to the set schedule.

- Making executive drawings and details of the parts that require it to facilitate their implementation on the industrial or technical concerned with the item.

- Follow-up and periodic updating of the schedule set to ensure the complete fit out on time, as well as follow-up of financial flows from the client in accordance with the contract.

- Termination and delivery of the real estate firm project.

Conducting a field visit to the site and taking pictures of it for reference when necessary and then meeting with the client to take what he wants after that kea design puts the general ideas of fees and after the approval of the client begins to draw the required and as possible after the completion of the final drawings the file is transferred to implementation and the implementation department sets the agenda to start fit out implementation.

In general, the design phase is the crucial starting point to give life to your ideas and your dreams. Our experts will take care of the architectural characteristics of the spaces, elaborating a subdivision that aims to be functional without sacrificing the right fit out dimensions.

The office design is therefore not only an architectural plan, but has a much deeper meaning and we are ready to get involved and identify the key that will open your doors to the whole world.

Our aim is to study the style that suits you, listening to your preferences and bringing out the essence of your personality and that of the company. All these elements will also be combined with the search for elegance and character, to obtain a unique and inimitable result.

From modern, to minimalist, to vintage, to colonial we will be able to orient you in all these different forms and also, where necessary, to mix several aspects.

In the same way, the choices of materials and lighting to be used will take place. All originally inserted in a harmonious frame and tailored for you.

Get feedback

The faster you receive customer feedback, the more momentum and creativity you can give to the complete fit out. It would be good to make sure that the feedback is always in written form.

Refine the design

After getting feedback from the client, it's time to improve your designs, correct any mistakes, and fine-tune your office design. Gradually, all the pieces must go to the right place. One thing that can help refine a project is to test it.

From the small representative office to the large complex Inside Project is able to professionally manage any realization project. Our team of architects has its headquarters in Dubai, provides its qualified experience gained in the office design and furnishing throughout the national territory.