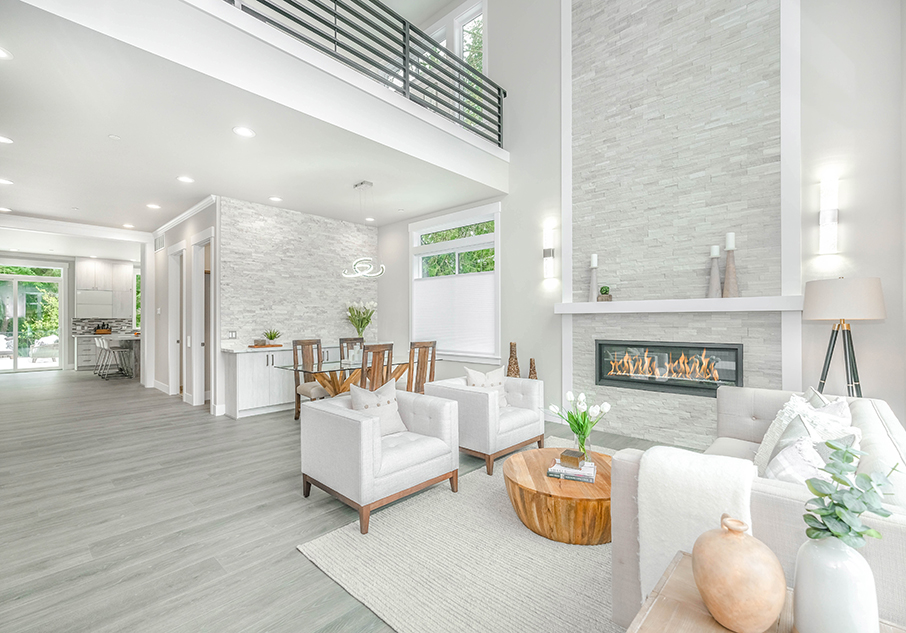 Tips To Make Your Rented House A Luxury Home
Tips Making Your Rented House like a Luxury Home
In the age-old debate of bought versus rented house, one of the drawbacks of renting has always been that you can't decorate your home and make it your own: While you can't exactly go and hit the walls and add an extension, there are Tips Making Your Rented House like a Home with number of decorative moves you can make to imprint your style on a rented house.

Renting a house is the choice of many people who want to change places for a while or to be closer to work, the number of people who rent a house, looking for an apartment or rented house that meets various needs and in accordance with the preferred home design is certainly very difficult and rarely found.

Your home, whether for a while or rented, deserves to be a place where you feel comfortable and like your own home. It is not difficult to come up with a design for your rented residence.

How to rejuvenate a house: useful and fashionable tips

REQUEST A FREE QUOTE

If you have been living in your current home for a long time, it is possible that your impression is that of a house that is now very lived in and a little dated. This can also happen when you go to live in a rented house: the furniture is dated, the walls are dirty and the furniture does not reflect your personality in any way.

The only possible action, in both cases, is to try to rejuvenate the rented house.

Rejuvenate the home with a touch of color

Renovate floors

Away with everything that wastes energy: fixtures and windows

Do not forget the outside: the home balcony for the 4 seasons

Even before starting to concretely rejuvenate your rented house, you will have to make a well-reasoned "plan of attack", so as to have clear what are the objectives to be achieved.

First, in fact, you will have to choose what style of furniture to give to your home. The style of a home is fundamental: it must reflect both the aesthetic sense of those who live there, and their needs in terms of design and comfort.

The styles to choose from are many: Minimal / contemporary, Urban industrial, Shabby chic, Ethnic modern, Classic, Modern rustic, Natural / Scandinavian, Fusion / eclectic, etc.

Rejuvenate the rented house with a touch of color:

Nothing rejuvenates a home better than a nice refreshed paint! The advice is to abandon the usual and icy chalk white: expand the spaces; but at the same time, it does not give character and gets dirty much faster. If you do not particularly like bright and bright colors, you could fall back on pastel shades of powder blue, powder pink, cream or mint green: they are a real panacea for the mood.

Alternatively, if your budget permits, you might want to consider plaster, a pictorial solution of great style and elegance, which will help to give your rented house a new and sophisticated air.

Renovate rented house floors

When it comes to "renovating floors" everyone always imagines an open construction site that pulls up the old floor to lay the new one. But no: there are much cheaper and faster solutions to renovate the floors of your home. With the floating floor – a laying technique that sees the new floor resting on the old one by means of special supports – you no longer have to worry about work in progress or excessive expenses.

Away with everything that wastes energy: fixtures and windows

To rejuvenate a rented house, it is not enough to renovate it from an aesthetic point of view: it is important that the renovation is first of all functional and energetic. Nothing wastes more energy – increasing consumption and costs – than fixtures and windows that are now old and poorly sealed. The choice of new generation fixtures and windows will be a smart investment that will allow you to increase the energy value of the house, to save on the bill and, finally, to also do good for the environment.

Renovate wooden furniture

To renew wooden furniture, you will not necessarily need to contact a carpenter or an antique dealer: with a little initiative, even do-it-yourself restoration can bring excellent results to the rented house! Take a good look at your furniture: at the sight they appear opaque and with some small scratches, just pass the surface with a rag soaked in hot water and a drop of ammonia. Only when dry, wipe them gently with fine-grained sandpaper to remove the paint and smooth out some small scratches, and then give a generous coat of impregnating paint for the wood.

Renewing textiles

Textile components are those that, over time, tend to be damaged more easily due to wear. To rejuvenate a home by giving it a modern touch, textiles – curtains and fabrics of chairs, armchairs and sofas – will have to be changed. Choose fabrics suitable for the style of the rest of the house and make sure that it is of good quality, so that they last over time without yellowing or making that unpleasant "pilling" effect.

Accessories are the key to success

The rented house reflects the taste, style and personality of those who live there not only through the furniture, but also and above all through the accessories with which you decide to decorate it. Green light to your expressiveness with paintings, photographs, posters, ornaments, or souvenirs from some trip to distant lands.

Do not forget the outside: the balcony for the 4 seasons

When you start the renovation of a house that now appears a bit dated, you often make the mistake of not considering the exterior. The balcony, the veranda or the patio are outside the rented house, but they are still part of the environments we live every day: it would be a shame to neglect them. In order to enjoy our outdoor space all year round, take some important precautions: a heating system, a lighting system and some seats – sofas or small armchairs – to enjoy pleasant moments outside throughout the year.

A touch of green: plants and flowers

Finally, to rejuvenate a rented house, nothing is better than the touch of vitality that plants and flowers are able to give. Refer to your trusted florist, so that he can advise you on the best indoor plants – or outdoor plants – depending on your needs and the characteristics of your home.

Once you've explored what you can do, you'll be surprised at how much you can make a difference. With a little extra work and a little investment, you can make a rented property your own.

your landlord controls what happens in the property, he will be willing to make changes, as long as they improve the rented house and are reasonable. After all, you offer to both improve their assets and do the work for them. It is a mutually beneficial exchange.

Your rented house design proposals will probably need to be fairly neutral, but many of the best interior designs are based on the following elements of clean and simple colorways so that there is an idea that suits you.

Do not furnish and present the main investment pieces

If you're looking for a place where you can make change, don't use furniture., but lay the foundation for if and when you want to buy a home.

Here are some examples of memorable pieces that you can present and that will set the tone for the piece:

Lighting: Often overlooked, display lighting can really change the mood of a rented house.

Upholstery fabric: Sofas, chairs, stools. These are pieces that dominate the room and can add a splash of color.

Dining table: A true centerpiece and a long-term investment. Kea design offers an exceptional range to fit all styles.

Modular storage: In addition to meeting a practical need, choosing stylish cabinets, drawers and shelves will make a big difference in the home.

The final solution is to use objects you like to hide objects you don't like. This can apply to an unfurnished or furnished home and allows you to purchase your own statement items.

If you can't wallpaper or paint the walls, use wallpaper panels, wall hangings, and artwork to set the tone for the home. If you don't like floors, buy a rug that will draw attention to it.

Even simple gestures like using a nice bed linen or adding a few plants around the house will allow you to make your own mark.

Plus, there's nothing stopping you from storing items you don't like and bringing others you like, so even a heavily furnished rented house can be modified to your liking.

Once you've explored what you can do, you'll be surprised at how much you can make a difference with a little extra work and a little investment, you can make a rented house your own.

Every time you rent a property; you should be vigilant because you don't own the rented house. While caution can mean ensuring no damage happens to property, it also means that you have to be wary of your legal rights as a tenant.

1. Understand the laws of Host-Tenant in your area. It is important to scrutinize the Host-Tenant law to ensure that you, as a tenant, understand your rights and responsibilities.

2. Check the property. You should check the water system, air conditioning unit, door and window locks, pipes (keep the toilet on), etc. Be sure to ask the owner or landowner about the maintenance of the house and when the last house was operated. You don't want to rent a house with plumbing problems or heating problems during the cold /hot season.

3. Read your lease carefully: Your lease is a valid contract between you and the landlord for the use of the landlord's property. The lease may contain additional clauses that are not legally mandatory by Landlord-Tenant law, but the clause is legally binding when the rent is signed by both parties. If you are concerned that your lease may not be fair to you, ask for legal advice.

4. Pay your rent on time: After moving to your new home, you will need to pay your rent on time. Rent can be paid by cash, check, or electronic transfer. Cash payments are not recommended as there is no paper trail to track your money.

5. Get to know your neighbors: This may not be an important tip, but your neighbors can become a valuable source of information. Your neighbors may know the area well, and can recommend to you a good dentist, auto shop, or local restaurant. Also, your neighbor may know your landlord and the previous tenant of the house. It may be important to know your landlord's history with tenants, especially if the landlord fails to consistently improve the rented house.

6. Do not sneak pets home without the consent of your landlord. If you are planning to adopt a dog or cat, you will need to ask permission.

7. Replace the lighting in the room: The first thing you can do is replace the light bulbs or lamps that are in your rented house.

Replacing the lights that are too dim with bright or warm tones for the room can make the atmosphere of the house feel more friendly and welcoming.

8. Attach or replace curtains on windows

Anyone who has ever rented a house must have been disturbed by the tacky curtains or curtains found in your rented residence. Replacing curtains with calmer colors, floor-length, and with the appropriate type of material can change the aesthetics of the room and get around the sun's rays well.

9. Decoration with houseplants: Many rented houses do not allow nailing walls, therefore hanging artwork or photo frames cannot be an option as decoration. Houseplants are the right decoration choice for a rented house that can easily beautify and refresh your home.

Inside the bathroom, on the dining table, next to the bed, there are a wide variety of ornamental plants that you can present in your rented house according to the usefulness of the space.

In addition, houseplants also have benefits as an air purifier that can eradicate toxins that may be found in your rented house.

10. Make use of mirror glass

No need to attach to the wall, a full-length mirror glass that is usually propped on an ordinary wall is associated with a maximum and luxurious design style. Mirror glass can also create the illusion of a more free room and feel relieved, especially for small rooms.

A glass mirror can also be used on the wall to hide the power box. Choose a mirror glass that suits your favorite design style, whether it has a vintage frame or a mirror with modern LED lights.

11. Change the original furniture layout

Change the layout of the furniture so that you maximize the room well. Moving and placing furniture to your liking can also change your home residence to make it feel new and fresh.

You can also use furniture placement to camouflage things that look messy like a series of wires from a television.

12.Add a touch of your design style

Buying quality furniture that matches your design style becomes a good furniture choice because you can reuse it after moving from your rental house. Although it will cost more, buying quality goods and of course Your liking will definitely be used and you have it for a long period of time.

Isn't the inspiration above?

Interested in juggling your rented home feeling like your own? You can apply all the decorations above to living room, bedroom, bathroom, kids room, wardrobe, kitchen, dining room.

At kea design consultancy department in Dubai, UAE we can help you upgrade your interior. Count on our support from a simple reorganization of your home to a partial upgrade and a complete renovation. We will get to know you and you will get to know yourself.

We will help you choose the best color combinations and styles and all related concepts: optimizing your floor plans, design living spaces, plan the bathroom or kitchen, create storage space or simply go with you in search of the right sofa.

Due to our years of professional experience, we know that for smaller projects you can neither find interior designers nor architects who take care of the problem. This is due, on the one hand, to the full order books and, on the other hand, to the fact that the order volume is often too low. we want to be the link and develop ideas for your construction site together with you, without any indirect effects on our big projects