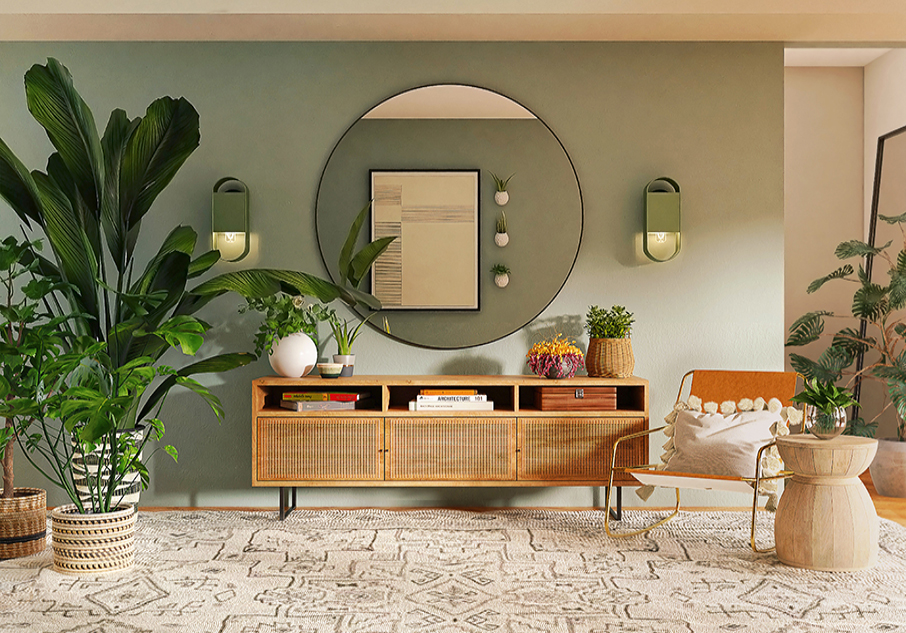 Tips All First Time Buyers Should Know About Interior Design
Houses, as an architectural rule, are larger and more spacious than a general residential environment, so a home interior design should offer an interior as majestic as its architecture rather than a layout. In this article, Tips All First Time Buyers Should Know about Interior Design and what needs to be considered about its decoration.

Important Points for first time buyers

When considering the design of your new home, it is necessary to know that its architectural aspect is naturally connected with the direction of interior design. Without architecture, design is incomplete. A home interior design needs to be as romantic as it is organic.

Since the essence of a home concept revolves around its purification from the urban environment, the architecture itself must also be designed in the context of the interior.

Of course, design tips are completely different concept, but the solid architecture on the outside should be integrated into the interior with a good interior design. The goal of designing a home is to maintain a sense of nature and care.

New Fangled: Contemporary interior design tips are a fashionable and modern style that can be expressed in multifaceted looks that are transformed by time and innovation.

Another way to go for this type of home interior design especially for first time buyers is to make the concept stand out around completely contemporary design. Thus, the aesthetic will be completely modern and very ornate; with solid, straight lines, cool materials and a generally fashionable, sophisticated and stylish finish.

Themes design tips

If you are an exotic or big fan and prefer an extravagant and different design tips over the usual Palladian (European architectural style) or contemporary themes, then you can definitely make your choice. There are a number of interior design tips and you can choose any of them depending on your taste, style, and personal abilities. Whatever you choose, just make sure that the thematic aspect of the interior design of your home does not overdo it.

Color and Material Scheme

The color and material scheme in any home is an essential design tip and depend on the theme on which the interior is designed. The main thing for first time buyers is to create harmony between flat and textured surfaces so that nothing is too disproportionate or unstable. Visual balance and harmony of tone and its integration as any thematic in the context of the respective interior design are the two most important aspects.

Home Interior Design and Interior Designer

As a first-time buyer, if you don't have enough knowledge and experience, hiring a professional interior designer may be the best idea. Get inspired by the magnificent designs tips of kea design Interior Architecture! Thanks to excellent planning, our expert interior designers try to present the customer requirements accurately. Our team of expert interior design consultants in the fields of luxury home design, modern home interior design and home décor offer detailed and very specific concepts to make your dream home a reality.

First time buyers, when designing their home and its interior design, requires important details that make up the body of the design.

1. Think and plan your needs clearly

Before we start designing interiors, we should first understand first time buyer needs. What room do he want to decorate in the house? What are the functions? How many furniture does each room use? What style of decoration do he want to use, what part do he want to use, where to be?

We don't define functionality clearly. For example, we sometimes conclude with designers, but think later, for example, there should be more storage rooms, more bedrooms for the elderly. These will require interior designers to re-dismantle it.

2. Define interior design concepts

Once we know first time buyer's needs, what they want: This step goes into the interior design tips and process, where what they need to do is define the concept as a way to help the décor of the house come out in the same direction and be consistent.

Material use and furniture selection for example, given the concept that you want to make a small house look like a resort, we will continue to think about what to add to the feeling of a resort, such as using natural materials in interior design, designing light channels or windows that are open for views, etc.

3. Beware of latent charges or costs

Normally, all first-time buyers hire recruiters to help coordinate. It has the advantage of making it more convenient, but there will also be an increased agent commission.

For example, in addition to the broker, there will also be a portion from the contractor or other departments as agreed with buyer. This will depend on the budget of the construction work.

This means that the construction price of the interior design work offered by the contractor to the client also costs this part of the fee without the customer's knowledge.

The way to prevent this is to compare the prices of several agents, choose the agents that you are interested in, compare them, but do not forget to consider the quality of each.

4. Interior designer

Choosing a good interior designer, is important to look at past work experiences, because nowadays it is not difficult to make a beautiful picture of yourself. Just use technology to help. Use software that does it better, renders faster, looks more realistic.

Making beautiful photos is part of the design tips. But there are actually other important details, such as the placement of space. Choose the right material for your budget. Work experience, systems work

Choosing to hire an interior designer or architect is important, because experienced interior designers know what to do to make our home look good and functional. They also make atmospheric images or 3D rendering images as a visual representation of the scenery for buyers to see first.

First time buyer's mindset"

-There are people who do not have much knowledge about furniture interiors, but how can such people improve their knowledge of interiors and coordination skills?

First of all, you should start with "liking" the interior. The quickest way to express your "personality" is to choose important things based on the simple criterion of "like" and freely enjoy interior coordination while carefully using and decorating them in your life.

The first is to look at the things you love in your home and around you, it doesn't matter which of the three major elements of food, clothing, and housing life. For example, brands and products are always something that people are particular about in their lives. You "live" with them for a long time, don't you? It is important to try to find out this first. Even if you think you have no hobbies, there will definitely be one if you review your food, clothing, and housing.

The second is to take a good look at what these favorites have in common, there are similarities such as color, texture, and taste. As first-time buyer, if you think about it carefully, you will see that you actually liked modern and square things. And in order to place and decorate them, it is better to coordinate modern furniture, or to think that it is better to put colorful things that look good, and expand from small things.

The third important thing is to incorporate a sense of the seasons into your life, some people are not good at enjoying interiors depending on the season.

If you live in a detached house, you can enjoy gardening after furniture, or if you live in an apartment, try tiling the terrace or put furniture where you can drink coffee outside.

Curtains are fine, aren't they?

you can do various things depending on the season, such as making thick curtains in winter or curtains that lower the perceived temperature in hot summer.

Fourth, what you like is to continue to use it carefully. The furniture interiors purchased so far should be closely related to your life, so one or two items will definitely come out that you want to keep using. No matter how much the times change or trends change, it is possible to continue using furniture that is derived from what you like.

And since you will become attached to things that you have used for a long time, you will notice that you are loving furniture interiors. Furniture and miscellaneous goods are not works of art, but practical goods. With beauty that suits the style of the first-time buyer.

It is best if it is "beauty for use" that combines functionality. If you are dissatisfied but want to buy makeshift furniture, it is important to keep looking for it until you find something you really like, and this attitude will cultivate a sense of beauty and aesthetics in your life. You'll want to use such a favorite for the rest of your life. you really like the chair you bought and continue to use it carefully even after repeated moves.

-There are design tips categories such as "Natural", "Modern", "Country", "Classical", "Asian", etc., but do customers who visit the Living House know about such categories?

For sure all first-time buyers understand it somewhat lately, but many of them still feel ambiguous. Why it is easier to understand if you come up with design tips from the small things around you. On the other hand, when we serve our customers, we often ask them about their hobbies. It's easier to think from there. If you like Italian bicycles, we often delight you when we suggest Italian modern furniture. "Natural" and "modern" may be an afterthought.

-From the perspective of furniture first time buyers, what does "good furniture" mean?

In any case, just like fashion, it is important that the interior fits your sensibilities and that there is a harmonious balance. "What you like is what makes you good at the room" this is the essence of interior coordination.

Creating an inspiring interior design, specifically for first time buyers, that makes a good first impression on guests is something any host wants as it's a nice feeling to hear the oohs and aahs of guests when they admire the impressive home interior design:

CHOOSE SUSPENSIONS

For first time buyers who want to impress their guests with an exciting home interior design, make sure you have good lighting. Hanging lamps are the best choice of lighting for a modern interior. But when it comes to hanging lamps, make sure you choose something that has an extraordinary and unusual design –An attention-grabbing design tip that can trigger visual concentration upwards

ADOPT AN OPEN PLAN DESIGN

First time buyers who want to create a strong impact in their home, must adopt an open plan design if possible.

ADD AN EYE-CATCHING GLOSS

One of the most impeccable interior design tips buyers can apply to their home is to add an eye-catching gloss, these impressive interior design tips will leave your guests inspired

BUILD YOUR WALLS

Finding wallpaper is becoming more and more of a trend that is often requested. To impress your guests, decorate your walls with wallpapers with attractive and unusual patterns, colors and designs. You can opt for nature-inspired abstract basic shapes or other colorful patterns that will transform your walls into a beautiful work of art.

COMBINE COLORS WITH WHITE WOODS

No matter what color you have chosen for your interior design tips, consider elevating your home with dazzling white woodwork. This home interior design tip offers a soft contrast with brightly colored walls and dark wood floors. It also provides a traditional edge to your interior design tip while making your home interiors fresh and stylish.

INVEST IN ART DISPLAYS

Art displays can help define the color palette of first-time buyers home décor. Your guests will surely be amazed by seeing these expressive pieces hanging on your wall. But if you're trying to create an interior design on a budget, you can shop at flea markets and bazaars for affordable but impressive art exhibitions and decorations.

CHOOSE COLORS THAT INSPIRE

Be careful to mix colors for your interior decoration. If you want your décor to stand out, don't stick to neutral colors, as they're too subtle and won't make your space stand out. Instead, choose colorful patterns that are aesthetically appealing and pleasing to the eye.

ARRANGING ATTRACTIVE CHAIRS NEAR THE ENTRANCE

Having nice seats near your front door serves a dual purpose. In addition to wowing your guests, you can use the chair to put on or take off your shoes. You can have a couple of stylish chairs in complementary colors and a console on the side, or you can place a beautiful sofa or bench. Whichever you choose, be sure to invest in furniture that will make a good immediate impression on your guests.

ARRANGE A CONSOLE IN THE HOME

As your guests will most likely pass through your hallway upon entering your home. One tip to highlight your interior design is to place a console table on one side of your fireplace. If you're looking for the best in home décor on a budget, consider recycling an old vintage console. Paint it in coordinated hues and decorate it with elegant objects.

INCORPORATE UNIQUE DESIGN TIPS

If you don't mind spending more on your home décor, consider investing in a bespoke piece of furniture with a truly unique design. Make it a focal point of your home décor and place it in a place that your guests will easily notice. For example, you can modernize your living room with a zigzag-shaped bookcase or a strangely shaped coffee table

INSTALL A HARDWOOD FLOOR

A rustic way to impress guests first time buyers is to install a sleek and uncluttered hardwood floor touting a rare wood in your interior. You may need to hire professional contractors for the installation of the flooring, but this interior decoration supplement is worth the investment. The impact of this classic flooring style is not only magnificent, but it is certain that it will increase the value of your home.

Kea Design sticks to its style and specialty

We all have a style, and we generally excel at what we master. For example, if you specialize in mid-century modern, rustic, or classic style, you should stick with that specialty.

This doesn't mean you should only work with clients who like this style, but you still need to define your ideal clientele and first-time buyers.